Continental for the Win at the Marina del Rey Marriott
Located just three blocks from Venice Beach with easy access to many Los Angeles attractions, the Marina del Rey Marriott offers a location that is a perfect balance of relaxation and accessibility. Plus, its close proximity to both LAX International Airport and SoFi Stadium – host to the 2022 Superbowl – made it a popular destination for those traveling in February of 2022 to see the Los Angeles Rams play (and win) against the Cincinnati Bengals in Superbowl LVI.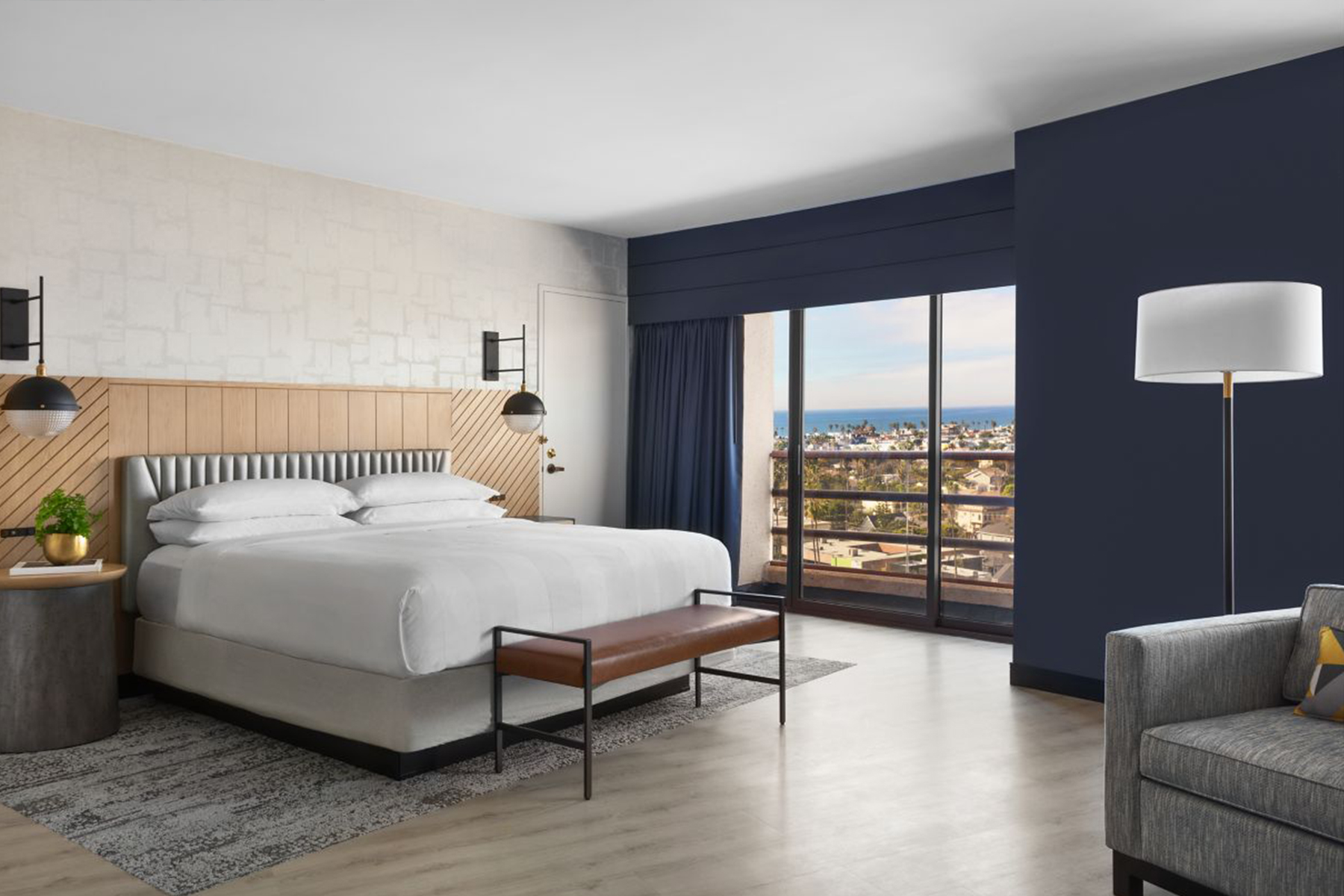 Due to anticipated tourism demands, Continental got to work with a strict deadline in place. In 2021-22, the team worked closely with California local architect Houston Tyner and designer Greige Goods Studio to provide a modernized renovation of the property's 369 coastal-inspired guestrooms and suites. The modern, luxury design of the rooms required a complete strip of the outdated vinyl wall coverings in exchange for freshly painted walls, new valances, installation of luxury vinyl tile, and new case goods. And it all had to happen well before kickoff on game day.
The unexpected challenge of the project, however, came with the floor-to-ceiling bathroom conversions meant to accompany the sleek, new design of the guestrooms. "Upon starting the project we discovered that the piping for the waste riser system had cracks and needed to be replaced," recalls Senior Project Manager, Dan Sciortino. "We completely repiped all the waste risers and changed the toilet configurations in all of the guestrooms. All while keeping the building fully occupied." The ambitious bathroom renovations also included 250 tub to shower conversions, 120 tub replacements, new plumbing fixtures, and the installation of new floor and wall tile throughout.
To finish the project on time, Continental called in their second string of professionals to help them meet their goal.
We added crews as well as additional superintendents where needed, and brought in a second plumbing subcontractor," Dan said. "This allowed us to have one sub working top-down and another working bottom-up to complete all of this additional work."
In addition to a winning guestroom renovation, Continental also provided its services in some of the property's public spaces. Both the fitness center and the MClub buffet and dining area received sleek, contemporary upgrades to compliment the new overall style of the Marina del Rey Marriott and accommodate the many excited tourists due to pile in for game day.
Continental completed the project in a total of nine months, proving yet again that when you work with a hardworking, goal-driven team, anything is possible.