With August drawing to a close and the start of a new school year approaching, Continental is ready for one of our favorite annual activities to support education. We know that giving back to your community is good for businesses. But mostly, our team just loves to be involved! We feel lucky that our offices are in three great towns, filled with people and businesses and community programs that care.
Our Continental team in Annapolis has once again partnered with Seeds 4 Success to help provide school-age children with backpacks and supplies. Seeds 4 Success students live in low-income and public housing communities. This program really makes a difference for these youth. Backpacks not only ensure that that they have the supplies they need to be productive at school, but they also serve as something special for the students to carry into school, so they don't show up empty-handed. We believe that every child should have the chance to start the school year on equal footing.
We have our very own Mike Welch to thank for introducing us to Seeds 4 Success! For six years, "Mr. Mike" has been tutoring boys in first through fourth grades. His skill and enthusiasm for helping kids read are contagious – he really loves helping students discover the joy of a good book. Some of Mr. Mike's students have been part of the Seeds 4 Success program, so it's been a special honor for us to be involved.
Continental will be joining the Seeds 4 Success team this week to stuff 20 backpacks with school supplies and school-friendly snacks. At the Family Night Dinner on Friday, the children receive the backpacks – filled with supplies, love, and our best wishes for a great year ahead.
We can't wait to see everyone at the Family Night Dinner, and hear all about the students' plans for the upcoming year!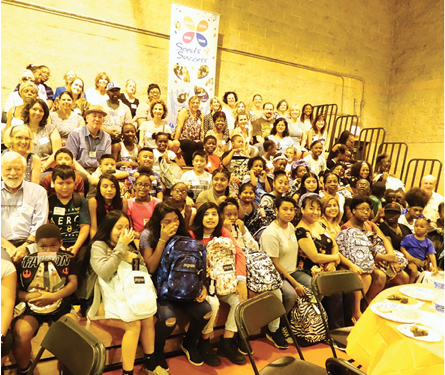 Mike Welch (bottom left), Director of Human Resources at Continental, sits with one of his students at a previous Family Night Dinner.