At its best, hotel design has the ability to transform us to another time and place. From polished marble floors and sweeping staircases to funky sculptures and bright colors, when we cross the threshold into a hotel lobby, we are entering a new world. That first step into a hotel may be a guest's first glimpse into what makes the surrounding area special. The increased demand for a more unique and tailored hotel experience has pushed even the largest hotel brands to break out of the old cookie cutter designs and embrace what the local community has to offer by incorporating the area's "feel" into the design, architecture, artwork and even events at the property level. 
At Continental Contractors, we've had the honor of working on many hotel renovations with special ties to the communities that surround them. These successful renovations have built reciprocal relationships, not only incorporating local culture into hotel design, but also influencing their neighborhoods and cities in a positive way. 
Hayes Mansion, San Jose / Historic Preservation
Continental renovated the Hayes Mansion after it was purchased from the City of San Jose by JMA Ventures, LLC in 2019. The decadent property was originally built as a private home in 1903. Purchased by the City of San Jose in 1985 it was converted to a conference center with a dining room, 214 guestrooms, a pool, and a fitness center. But by 2003, it cost the city between $2M and $6M every year. After several failed attempts to sell the property, JMA finally purchased it two years ago, with plans for an extensive renovation. 
During the renovation, nearly every part of the property's interior was updated (and upgraded). Yet features such as the marble floors and stained glass skylights remained. The hotel is now a member of Historic Hotels of America (since 2019). In addition to physical improvements, the property's name was changed and it was added to Hilton's Curio Collection of properties. As a result of the renovation and the Curio Collection affiliation, Hayes Mansion is expected to see increased bookings and revpar — and the city of San Jose was able to unload a burden that had cost it millions. 
Annapolis, Maryland is a town with an incredible personality. Built on the water, it is a well-known sailing center and home to the US Naval Academy and St. John's College. Every spring and summer, visitors flock to the area, which previously hosted only a few full-service lodging options within walking distance to downtown. Annapolis was an ideal location for the Graduate brand and in 2019 the former Loews hotel downtown on West Street underwent an extensive renovation by Continental Contractors to become Graduate Annapolis.  
Known for embracing the local collegiate culture, all of Graduate's properties pull inspiration from the schools nearby, and the Annapolis location is no different. Nautical flags, vintage art, references to the nearby schools' architecture, mascots, and traditions are included throughout. The bar and restaurant have been completely renovated, with outdoor seating options, and a new coffee bar installed in the lobby. The colors are bright, and the design unique and cheerful. With the entry of Graduate into town, Annapolis gained an upscale lodging option for visitors, alumni, and prospective students — and a fun local hangout for hometown-loving locals.
Up until the 1990s, Palm Beach Gardens, Florida was a sleepy community with large tracks of undeveloped land. That all changed when the McArthur Foundation began selling off parcels to developers eager to build homes, offices, and retail centers. More recently, the growth of companies in northern Palm Beach County such as Pratt Whitney, Niagra Water Bottling, Cyient, TBC Corporation, Garden of Life, Zimmer Biomet, De Puy Synthes, and United Technologies has increased the demand for hotel rooms for business travelers.  Additionally, the 2016 opening of a nearby convention center hotel means that the increase in tourism to the area isn't just for beachgoers.
In an effort to avoid the cost and environmental impact of adding a newly constructed hotel, developers throughout the US are opting to allocate funds to renovate existing properties. That was the case for the Marriott Palm Beach Gardens, which completed a lengthy renovation in 2020. Upgrading the property's 279 guestrooms, lobby, and restaurant has attracted more business travelers who are loyal to the Marriott brand. With the increased business travel bookings, the city of Palm Beach Gardens is looking to elevate the corporate meetings business to offset seasonal leisure tourism lulls and boost the county's overall economy. We at Continental were thrilled to play a role in the Marriott's renovation, and contribute to the overall boost to the local economy.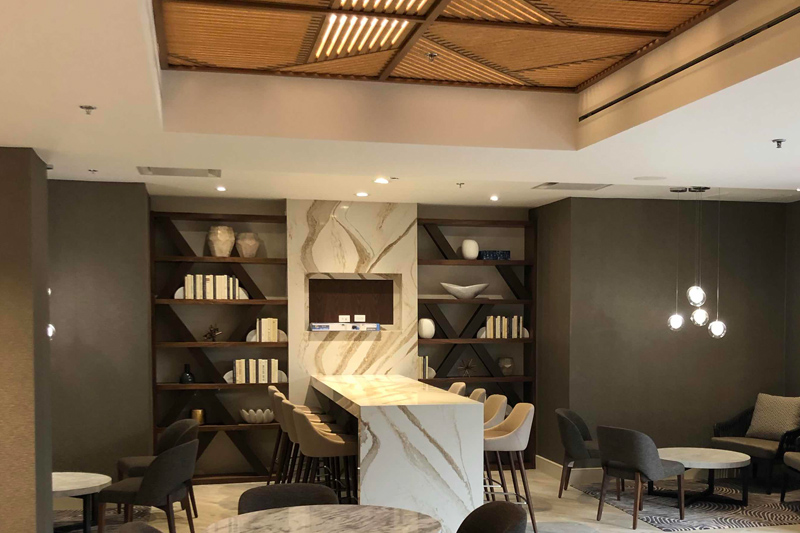 When a project is successful in more ways than one, we are thrilled. At Continental, culture means a lot to us. Helping to infuse a local flavor or brand culture into the hotel we work on is truly rewarding.