The Lodging Conference 2022 in Phoenix has just wrapped up, and it did not disappoint. A record crowd of more than 2,500 participants packed the general sessions and think tank panels, and overall the mood was one of optimism and enthusiasm.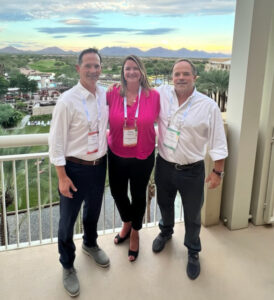 There is no doubt the hotel industry has rebounded in this post-Covid era. Despite the complications that rising interest rates and inflationary pressure bring to hotel financing, deals are continuing to get done. Renovations and conversions are moving forward despite high construction costs, while properties are working harder to maintain assets with less staff as labor wages continue to rise. Anyone fortunate enough to be in the hospitality industry has likely been working very hard for the last 24+ months, and if the predictions at this year's conference hold true, the next 18 months will continue to keep us all very busy.
Here are a few takeaways that stood out for us during the 2022 Lodging Conference:
Managing Expectations
Many panel experts weighed in on what has been keeping them busy these days, and regardless of role within the industry, managing expectations tended to top the list. Whether helping guests adapt to new housekeeping schedules, keeping owners informed of the reality of building costs and availability (or lack thereof) of materials, or balancing employee and business demands amid salary increases and remote work options, the need for compromise and patience is industry wide. Early and clear communication, no penalty for delivering bad news, and planning ahead will be key to keeping goals aligned as we navigate the next year.
Rate-Driven Recovery
Every year a new catch phrase emerges from this conference and "rate-driven recovery" appears to be in the running this year. (Previous winners include "bleisure travel" from 2021, and "cautiously optimistic" from 2009, 2010, and 2011.) While RevPar and ADR are back up to pre-Covid levels in most markets, the slow return of business travel is notable among statistics presented this week. RevPAR and ADR hit record highs this summer, but the increased cost of operating a hotel means that profits are not as robust as the traditional measuring stick would imply. Increased energy, labor, insurance, and CapEx costs are creating pressures that may give some developers pause as they evaluate the entrepreneurial (one year) return on investments to new assets.
Technology as an Essential Tool
New uses for technology came up in nearly every panel, including labor, design, and construction trends. Operators are attempting to mitigate attrition using mobile employee engagement platforms and providing access to daily pay. Touchless features continue to be specified and installed in areas such as public restrooms, with an eye toward how to effectively implement such tech in individual guestrooms. And the speed to market of modular construction was touted as a potential option for specific applications and markets. Brand applications have become more robust and offer more insight into guest behavior than ever before.
ESG and DEI: Where does the Rubber Meet the Road?
While hospitality companies have acknowledged the importance of diversity, equity, and inclusion (DEI) for several years, the actual environmental, social and governance (ESG) policies and statistics of a company will truly tell the story of DEI and other social initiative results. Increasingly, companies are requiring suppliers and consultants to provide proof of social responsibility. Ten years ago, the focus was on environmental responsibility. Today, it is on DEI. What remains unclear is whether (and how) the results of a supplier's corporate culture survey will impact the issuance of contracts in the future. To what extent hotel owners and operators are willing to look outside the traditional stable of suppliers to improve ESG results remains unseen. As for the conference itself, the inclusion of a panel to discuss ESG and DEI, as well as one focused on advancing women in hospitality was welcome. However, in the overall speaker and moderator lineup, men still outnumbered women nearly 3:1.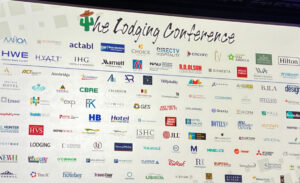 The Lodging Conference is an institution, and an incredibly valuable source for those looking to learn more about the current state of the industry through statistics and keynotes, but also through the general climate produced when 2,500 hotel industry professionals come together. This year, despite a grueling two years of hard work and non-stop effort to bring the industry back, the general feeling was one of optimism for the foreseeable future, excitement about how to improve operations in the "new norm," and appreciation for how far we've come. Thank you to Harry Javer for producing such an outstanding event, and giving us a space to learn, network, and celebrate the hospitality industry.
— Renee Bagshaw, Chief Operating Officer