The 25th anniversary of The Lodging Conference kicked off on September 23rd amid torrential downpours in the Phoenix desert. Breaking with tradition, this year's event was at the JW Marriott Phoenix Desert Ridge Resort & Spa. While some of us were initially nostalgic for the iconic campus and sprawling open lawns of the Arizona Biltmore Waldorf Astoria Resort, by our third day at the JW, the updated conference amenities, convenient additional guestrooms, and exceptional hotel staff won us over. Despite the soggy start and new location, this year's conference topped 2,000 attendees!
In his interview with Hotel Business publisher Allen Rolleri, The Lodging Conference founder Harry Javer confirmed that 175 people in attended the first year. When asked why this is a favorite event for hotel executives, Harry cited the relaxed atmosphere and today's need for human interaction amid a digital culture as reasons attendees come back year after year. Continental Contractors first attended in 2008. With only one exception, we have been back every year as a sponsor, and it continues to deliver an excellent return on our investment.
There were many topics covered at conference. But the top three on everyone's mind seemed to be:
Health of the economy
Hospitality industry growth rate, and
What to do about those darn alternative lodging sites.  
With that in mind, here's an attempt to summarize three conference sessions on these topics, with a running theme among them. (Hint: we're all still "cautiously optimistic.")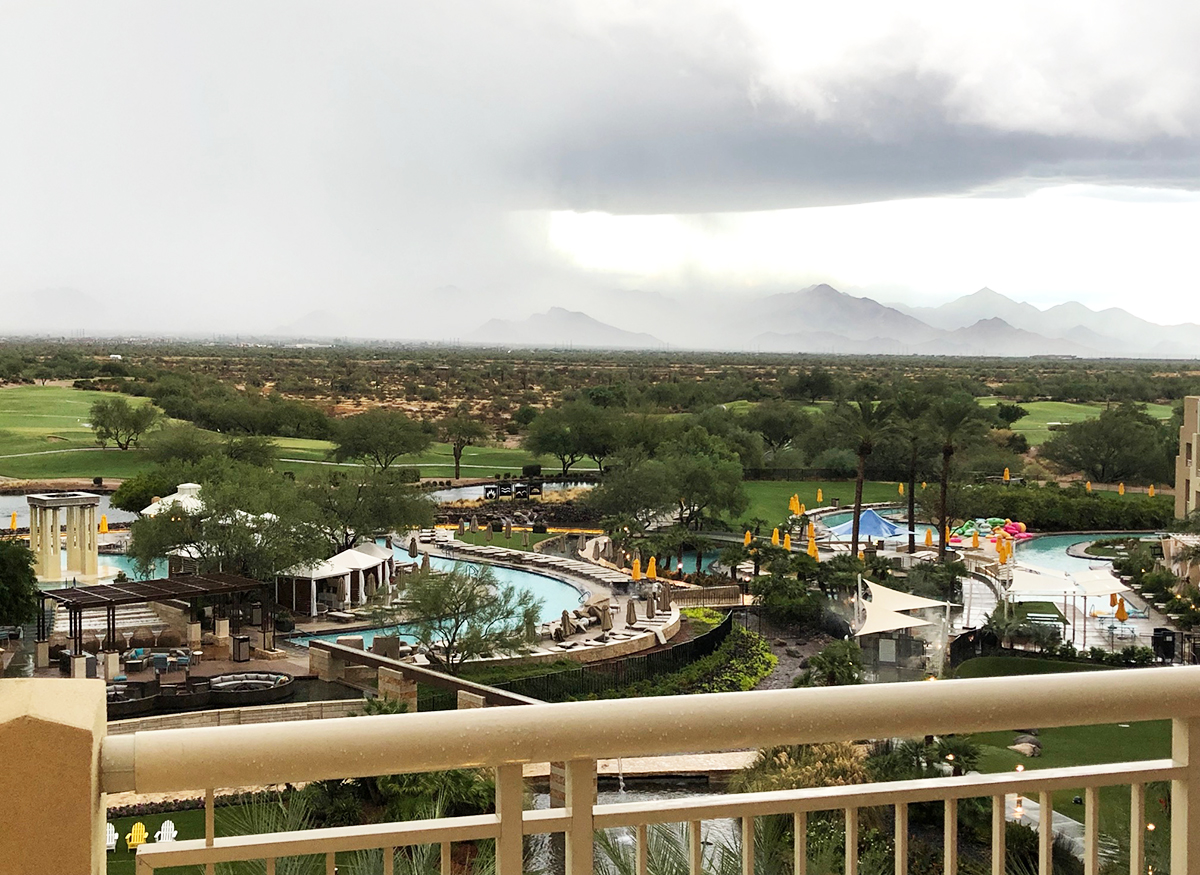 View of the rainy weather from the balcony at the JW Marriott Phoenix

ECONOMIC OUTLOOK
Bernard Baumohl, Chief Global Economist at  The Economic Outlook Group, addressed the current Economic and Geopolitical Outlook. 
Overall, the current outlook is very good. The US is experiencing the lowest unemployment rate (3.7 percent) in 50 years and wages are edging up. Inflation is, for the moment, dormant. There is ample capital to go around. And technological innovations such as the rise of e-commerce, digital payments, and fast deliveries are boosting consumer impulse spending. 
Yet history does tend to repeat itself. So let's look there before we pop the champagne. The three past causes of recessions include high "real" interest rates, major geopolitical eruptions that caused the price of oil to spike, and acts of "human folly." Mr. Baumohl describe human follies as self-inflicted economic wounds such as the crash of 2009-2010 and, in his estimation, the potential recession of 2020. Current threats include an out-of-control trade war with China; numerous geopolitical threats such as Iran, North Korea, the South China Sea, Hong Kong, Venezuela, India, Pakistan; and Brexit. Additionally, there is likely to be extreme political warfare as the 2020 US presidential campaign ramps up. 
In summary: buckle up.
HOSPITALITY INDUSTRY GROWTH
JP Ford , SVP and Director of Global Business Development at Lodging Econometrics drilled down on the U.S. hotel construction pipeline. 
First, some promising trends:
As of Q2 2019, the pipeline is up from 2018, year over year. (Though pipeline growth slowed from Q1 to Q2). 
Pipeline projects under construction and those expected to start within the next 12 months indicates many new hotels expected to open in 2020 and 2021. 
Since 2015, an astounding 73 new hotel brands have been announced, not including international brands making US debuts. With so many options available the dual branded property will be an ideal way for owners to capture multiple guest segments in one space.
Still, the inevitable word of caution: stock market swings, tariffs, interest rates, and a new election cycle for 2020 are all causing a sense of unease within hospitality. 
Mr. Ford left us with this shining glimmer of hope: It is still a "good time for owners to sell and take their profits given the sales cycle and looming interest rate hikes."
ALTERNATIVE LODGING

Jenni Corwin, Lead Analyst of Consumer Insights at J.D. Power Travel & Hospitality Practice, addressed the impact of alternative lodging users on hotel guest satisfaction ratings. 
Ms. Corwin presented the counterintuitive findings from a recent study, suggesting that guests who also used alternative lodging (AirBNB, VRBO, Booking.com, etc) within the past 90 days are more likely to have an overall positive guest satisfaction ratings at hotels than those who solely utilize hotels for their lodging needs. 
Subjects in the study cited several reasons for choosing alternative lodging, including trips that include traveling with family, a more authentic local experience, and a better location. While staying at a hotel, alternative lodging guests tend to be better informed about the hotel property's amenities and services, and are more likely to have researched reviews prior to booking. They are also just as brand loyal as guests who do not use alternative housing. And they are more likely to provide positive reviews.  
Ms. Corwin wrapped up her presentation by noting that hotel properties that truly understand their guests needs (amenities, room layouts, additional space, and an authentic local experience) would do well to offer attractive hotel options to "win back" loyalty from those guests who split time between alternative lodging and hotels. Makes perfect sense to me.
Of course, it wouldn't be The Lodging Conference without ample networking and deal making over fantastic cocktails and dinner. We enjoyed spending quality time with vendors and clients, meeting new contacts, and making new friends. We sang karaoke with the crew at Hilton, sponsored a lovely event with Delta/Brizo, and we're already making plans for next year. We will definitely be back, even if we have to fight through rising interest rates, Brexit, and a mountain of Air BnBs to get there.
— Renee Bagshaw, Executive Vice President